The John Rickford Undergraduate Development Fund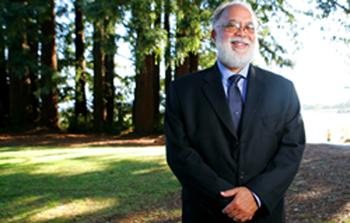 John Rickford graduated from UCSC and from Stevenson College in 1971 and went on to become one of the most distinguished sociolinguists of his generation, spending most of his career at Stanford University.
The Rickford Fund has been set up with two purposes in mind. The first is to honor John—for his distinguished intellectual achievements and for his unstinting commitment to marginalized communities and the languages that they speak.
The second purpose is to provide new academic opportunities for undergraduate students in the Linguistics and Language Studies majors whose academic performance is distinguished and who have made contributions to the Department's life and sense of community.
Examples of things your support to this fund helps pay for: undergraduate research projects, travel for undergraduates who have been accepted to research conferences, undergraduate linguistics club activities.
To make a contribution to the Rickford Fund online visit the UCSC Foundation's website here.
By check: send a check made out to "The UCSC Foundation" to:

Dept. of Linguistics
University of California Santa Cruz
1156 High Street
Santa Cruz, CA 95064-1077
Please make sure to specify on your check that you intend it as a contribution to the Rickford Fund.
Thank you for supporting UCSC Linguistics.