Faculty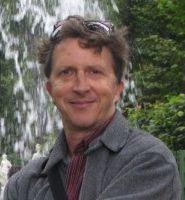 Title

Professor and Undergraduate Program Director

Division Humanities Division
Department
Phone
Email
Website
Office Location

Stevenson College Academic Building, 253

Office Hours Thursday 1:00 - 2:00pm and by appointment
Mail Stop Stevenson College
Mailing Address

Stevenson Academic Services
Santa Cruz CA 95064

Faculty Areas of Expertise

Phonology, Linguistics, Language and Linguistics, Russian, Speech

Courses Ling 80C (Language, Society and Culture), Ling 101 (Phonology 1), Ling 102 (Phonology 2), graduate phonology courses, and occasional phonetics courses
Research Interests
Phonology, phonetics, Russian, Slavic, Irish.
Biography, Education and Training
I am a professor of linguistics who works on phonology and phonetics: speech sounds in languages.
My main language interest is Russian, but my work is directed at an understanding of language in general. I also frequently work on Irish (Gaelic). My work combines formal analysis, usually within Optimality Theory, with experimental methodologies. I am particularly interested in the role of contrast and perceptual distinctiveness in phonetics and phonology.